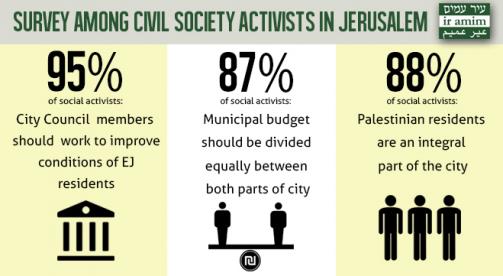 ---
A survey of 87 young civil society activists and professionals in West Jerusalem was conducted in December 2015 by Zofnat on behalf of Ir Amim.  
The survey represents a pool of leading voices from more than 20 civil society organizations in Jerusalem. While respondents are divided on their vision for a long-term political solution for Jerusalem, an overwhelming majority agree that there should be a more even-handed policy towards East Jerusalem and its residents, and believe that West Jerusalem-based NGOs have a role to play in promoting the rights of East Jerusalem residents.  
Some 87% of the activists said that the Jerusalem Municipality should divide the city's education and welfare budgets equally among all residents, even at the expense of West Jerusalem. About 88% of respondents said that Palestinian residents of East Jerusalem were an integral part of the city. Activists were almost unanimous (about 95%) in their opinion that City Council members should be responsible for working to improve socioeconomic conditions in East Jerusalem.  
The survey conductors noted that the individual activists tended to be more aware of the importance of East Jerusalem issues and to have a clearer position on the matter than their organizations. This could, they said, serve as a good starting point for developing the engagement of civil society organizations in East Jerusalem.
---
More on Jerusalem Municipality